Pedagogy
YAM integrates different types of learning in order to guide the participants through the difficult topics at hand. The programme stimulates cognitive learning through discussions and an interactive lecture about mental health and experiential and emotional learning in the role-play sessions.
Role-play stands at the core of YAM, a powerful tool to explore and transmit knowledge and experience. Play offers the possibility to see and think about contradictions of the past, present and future in ways that allow for different forms of action (Snaza & Weaver, 2014).
The three hour-long role-play sessions are filled with content chosen by the participating youth themselves. Though methods and efforts to solve problems are discussed, no specific set of skills or rule-based discipline is transmitted to the youth (Boler, 1999).
Role-play, reflection and dialogue help the youth reflect on complex mental health problems such as stress, crises, bullying, discrimination or depression and suicide. These are topics that are oftentimes stigmatised or avoided, especially in larger groups. Role-play allow us to explore situations that could otherwise appear problematic or threatening using the language the participants chose. Role-play provides room to reflect on personal experiences and problem-solving techniques whilst using newly acquired skills. Having an opportunity to identify reasons for different problems and to explore the potential effects on the people directly and indirectly involved, provides participants with tools for future use.
Below are the materials used in YAM. Click on the image to enlarge it.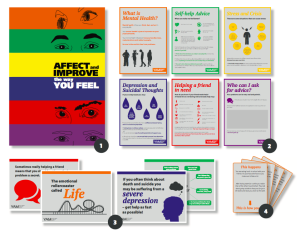 (1) The booklet "Affect and Improve the Way you Feel" which should be given to each participant to keep
(2) Six posters that should be placed on the walls of the room in which the YAM programme takes place for the entire duration of the programme
(3) A selection of slides used as the basis for discussion in the Opening Session
(4) Dilemma cards used in the first role-play session